Curtis "50 Cent" Jackson
Created by BlackEntrepreneurProfile.com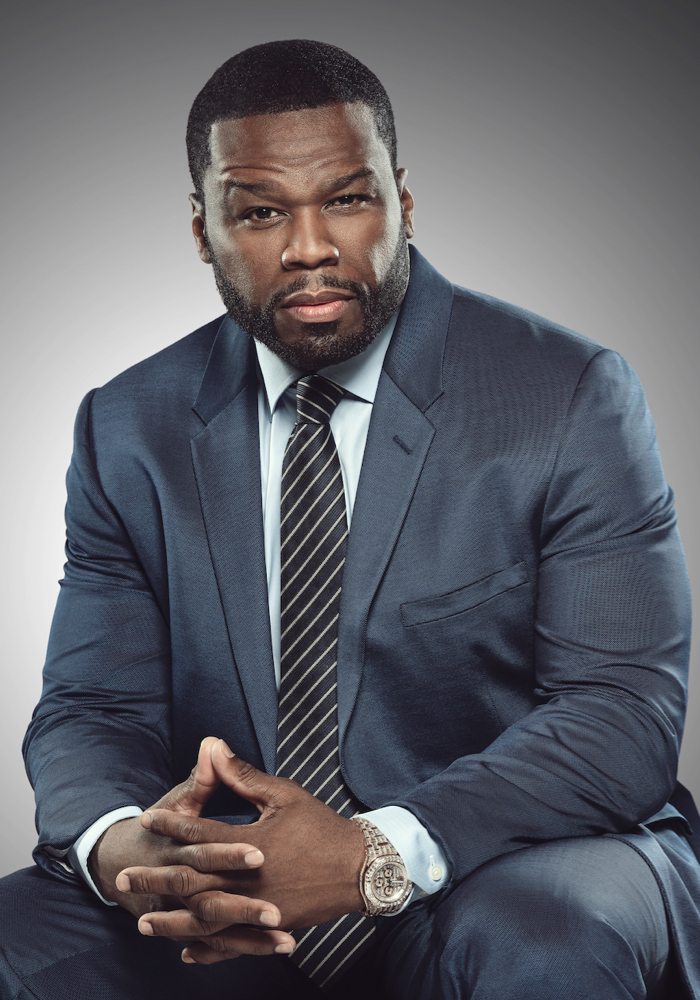 Born: July 6, 1975, South Jamaica, New York;
Occupation: Businessman, musician, television producer, actor;
Position: Founder;
Company: Sire Spirits, G-Unit Films and Television Inc., G-Unit Records, G-Unit Clothing Company, Cheetah Vision;
Industry: Music, Film and Television, Food & Beverages, Fashion;
Residence: United States;
Nationality: American;
Curtis James Jackson III, known professionally as 50 Cent, is the founder of Sire Spirits, G-Unit Films and Television Inc., G-Unit Records, G-Unit Clothing Company and Cheetah Vision. Mr. Jackson is an award-winning musician, entrepreneur, actor and producer.
Personal Attributes and Interests
Mr. Jackson has 2 children, Marquise Jackson and Sire Jackson.
Work Experience / Career
Mr. Jackson invested his earnings from music and celebrity endorsements in an array of privately controlled companies, real estate, and stocks and bonds. He has a highly diversified portfolio of companies in a variety of industries, including real estate, financial market investments, mining, boxing promotion, vodka, fragrances, consumer electronics and fashion.
Mr. Jackson is the owner of Sire-Spirits, the marketer of the Champagne and Cognac brands "Le Chemin Du Roi" and "Branson Cognac".
In 2015, he formed a partnership with the Holland-based Effen vodka, taking a minority stake in the company.
In December 2014, Mr. Jackson signed a $78 million deal with FRIGO Revolution Wear, a luxury underwear brand. The joint venture is partnered between Mr. Jackson, basketball player Carmelo Anthony, baseball player Derek Jeter and Mathias Ingvarsson, the former president of mattress company Tempur-Pedic. Jackson became the chief fashion designer for the brand's single pair of Frigo boxers.
In 2014, Mr. Jackson became a minority shareholder in Effen Vodka, a brand of vodka produced in the Netherlands, when he invested an undisclosed amount in the company Sire Spirits LLC.
In 2012, Mr. Jackson became a licensed boxing promoter when he formed his new company, SMS Promotions, a boxing promotions company.
In 2011, He founded SMS Audio. SMS stands for "Studio Mastered Sound". Mr. Jackson acquired KonoAudio that August for an undisclosed sum.
In 2010, Mr. Jackson revived his G-Unit Films, renaming the company to G-Unit Films and Television Inc.
Cheetah Vision, founded in 2009 by Mr. Jackson and Randall Emmett. The company produces low budget action thrillers for foreign film markets across the world. In early 2011, 50 Cent landed a $200,000,000 deal for the company, which will fund a 10-picture deal. Grindstone/Lionsgate will distribute the films. Under the deal, the films will have a budget of around $20 million each.
G-Unit Books, was an American book publishing imprint started in partnership with MTV/Pocketbooks on January 4, 2007 following a prior relationship with the company dating back to the publication of his memoir in 2005.
Glacéau's Formula 50, a variant of VitaminWater, launched in October 2004. Mr. Jackson became an investor when he was given a minority share in the company in exchange for becoming a spokesperson for the beverage company. In 2007, Coca-Cola purchased Glacéau for $4.1 billion and, according to Forbes, Mr. Jackson, who was a minority shareholder, earned $100 million from the deal after taxes.
G-Unit Films, founded in 2003.
G-Unit Sneakers, in 2003 he signed a 5 year distribution deal with Reebok his sneakers line.
G-Unit Clothing Company, clothing retailer established in 2003 when 50 Cent teamed up with Marc Ecko, the founder of Ecko Unltd.
G-Unit Records, founded in 2003, is a record label now owned by Universal Music Group. For the first eleven years of operation, G-Unit ran in conjunction with, and was distributed by, UMG's Interscope Records.
Accolades
Mr. Jackson is a GRAMMY Award® winner who has sold more than 30 million albums worldwide and has been awarded numerous accolades including:
13 Billboard Music Awards,
6 World Music Awards,
3 American Music Awards
4 BET Awards
He was ranked as the No. 1 rap artist and most successful Hot 100 Artist of the 2000s by Billboard Magazine, as well as that decade's sixth-best artist and fourth top male artist.
Philanthropy, Community Service and Memberships
Mr. Jackson founded the G-Unity Foundation in 2003 and has spent nearly two decades helping young people and communities in need thrive.
In September 2011, Mr. Jackson publicly committed to donating one billion meals to the World Food Program over five years. If he reaches this goal, he would become the 20th largest donor to the organization.
In his early 20s, Curtis Jackson, known as 50 Cent, rose to the heights of fame and power in the cutthroat music business. A decade ago, the multi-platinum selling rap artist decided to pivot. His ability to adapt to change was demonstrated when he became the executive producer and star of Power, a high-octane, gripping crime drama centered around a drug kingpin's family. The series quickly became "appointment" television, leading to Jackson inking a four-year, $150 million contract with the Starz network - the most lucrative deal in premium cable history. Buy This
In The 50th Law, hip hop and pop culture icon 50 Cent (aka Curtis Jackson) joins forces with Robert Greene, best-selling author of The 48 Laws of Power, to write a "bible" for success in life and work, based on a single principle: fear nothing.
With intimate stories from 50 Cent's life on the streets and in the boardroom as he rose to fame after the release of his album Get Rich or Die Tryin', as well as examples of others who have overcome adversity through understanding and practicing the 50th Law, this deeply inspirational book is perfect for entrepreneurs as well as anyone interested in the extraordinary life of Curtis Jackson. Buy This
Please Support Our Partners
Featured Profiles
This week's selection of outstandng Black entrepreneurs & executives
Created by BlackEntrepreneurProfile.com

Born: July 2, 1951, Chicago, Illinois, United States;

Occupation: Businessperson;

Position: Chairman & Founder;

Company: World Wide Technology…
Recently Added Black Entrepreneurs & Executives
Isiah Thomas is Chairman and CEO of Isiah International, a holding company with interests in a diversified portfolio of companies, founded in…

Created by BlackEntrepreneurProfile.com

Macky Tall is a Partner and Chair of Carlyle's Global Infrastructure Group, which includes efforts across transportation, renewables, energy, power,…

Created by BlackEntrepreneurProfile.com

KeJuan Wilkins is EVP, Chief Communications Officer at NIKE, Inc., where he guides all corporate, consumer and employee communications including the…
Diddy Direct is a platform created for retailers and consumers to locate, request, and purchase Combs Spirits. The platform offers direct access to…

Created by BlackEntrepreneurProfile.com

Financial literacy is the ability to understand and manage one's personal finances. It involves skills such as budgeting, saving, investing, and…

The Wendt Center for Loss and Healing, is currently recruiting for Board members who have experience in any of the following areas: Non-profit…
If You Like Our Content, Please Consider Making A Small Donation.
Recently Updated Black Entrepreneurs & Executives Profiles
Created by BlackEntrepreneurProfile.com

Simphiwe Tshabalala, is Group CEO and Executive Director of Standard Bank, Africa's largest bank by assets and the 421th largest publicly traded…

Created by BlackEntrepreneurProfile.com

Craig Anthony Williams has served as the President, Geographies & Marketplace, NIKE, Inc. since May 2023, where he leads a cross-functional team…

Created by BlackEntrepreneurProfile.com

G. Scott Uzzell is Vice President/GM, North America, NIKE Inc., since May 2023. He was previously President & CEO of Converse, Inc., where he was…
FTC: Black Entrepreneur & Executive Profiles is reader supported, we may earn income on affiliate links. You support us by using our links to buy products, it will cost you nothing extra.
We also a participant in the Amazon Services LLC Associates Program, an affiliate advertising program designed to provide a means for sites to earn advertising fees by advertising and linking to Amazon.com.