Robyn Rihanna Fenty
Created by BlackEntrepreneurProfile.com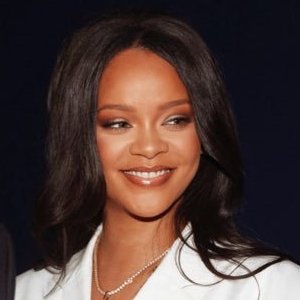 Full Name: Robyn Rihanna Fenty
Born: February 20, 1988, Bridgetown, Saint Michael, Barbados
Works for: Fenty Beauty, Fenty, Savage X Fenty
Primary Industry: Apparel, Cosmetics, Music, Film
Nationality: Barbadian (Bajan)
Residence: Los Angeles, California
Net Worth: (): ~ USD $1.40 Billion.
🇧🇧 Ambassador Robyn Rihanna Fenty, NH, is the co-founder and CEO of Fenty, Fenty Beauty, Savage X Fenty and founder of Clara Lionel Foundation.
Ms. Fenty is Ambassador Extraordinary and Plenipotentiary of Barbados (since September 20, 2018), with specific responsibility for promoting education, tourism and investment for the island.
"Rihanna has a deep love for this country and this is reflected in her philanthropy, especially in the areas of health and education. She also shows her patriotism in the way she gives back to this country and continues to treasure the island as her home. She has also demonstrated, beyond her success as a pop icon, significant creative acumen and shrewdness in business. It is therefore fitting that we engage and empower her to play a more definitive role as we work to transform Barbados," said Prime Minister Mia Amor Mottley.
Rihanna the Billionaire
Ms. Fenty was officially named a billionaire by Forbes.com on August 04, 2021 with a estimated net worth of $1.7 billion. At 34 years of age she became America's youngest self-main female billionaire, the wealthiest female musician in the world and second only to Oprah Winfrey as the richest female entertainer. The bulk of her fortune (an estimated $1.4 billion) comes from the value of Fenty Beauty, of which she owns 50%. Her stake in Savage x Fenty is estimated to be worth $270 million.
Rihanna the Businesswoman
As a businesswoman, Ms. Fenty has had great success in the fashion and cosmetics industry with her Fenty Beauty, the makeup brand she co-owns with luxury goods group LVMH. Which was founded in September 2017 and was estimated to have generated $570 million in revenue in 2019. Forbes estimates the company is worth, conservatively, more than $3 billion.
Fenty (stylized as FEИTY) is a fashion house founded by Rihanna under the luxury fashion group LVMH (Moët Hennessy Louis Vuitton) which was founded in 2017 and launched in May 2019 and is based in Paris. The fashion label made Rihanna the first woman and also the first blackwoman to be added to the LVMH group.
Ms. Fenty also co-owns Savage X Fenty lingerie line with Los Angeles-based online fashion firm TechStyle Fashion Group. Launched in spring 2018. Jay-Z's venture firm Marcy Venture Partners LLC and growth-equity firm Avenir Growth Capital were reported to have invested $50 million into Savage X Fenty. Bringing the total amount invested in the company to roughly $70 million, according to the Wall Street Journal. The company is estimated to have generated $150 million in revenue in 2019.
Rihanna's Puma Partnership
Ms. Fenty partnered with Puma in 2014 as creative director for the womenswear line. This partnership turned into a collaboration under her own name Fenty x Puma. Her time at Puma resulted in one of the most highly-coveted celebrity sneaker collabs with the Fenty Puma Creeper. Fenty Puma Creeper took home FN's Shoe of the Year award in 2016. The sneaker was a blockbuster hit and generated strong global sales. Their first partnership ended in 2018 but in early 2023, Puma announced on Instagram that they were renewing their joint Fenty x Puma brand partnership with Ms. Fenty.
Accolades
Her 2023 Super Bowl Halftime Show was the second most watched halftime show in the games history with 118.7 million viewers.
Rihanna Named Barbados' 11th National Hero, 2022, the youngest person to receive the honour.
In 2018, the Government of Barbados appointed her as an ambassador with duties promoting education, tourism and investment.
Rihanna is the highest selling and streamed digital female artist of all-time, surpassing Taylor Swift.
She was the recipient of the 2020 NAACP "President's Award." The award is presented in recognition of a special achievement and distinguished public service.
Rihanna is the richest female musician in 2019 according to Forbes.
95 million twitter followers
79 million instagram followers
74 million Facebook followers
9 Grammy Awards
12 Billboard Music Awards
13 American Music Awards
8 People's Choice Awards
Philanthropy
Ms. Fenty founded the Clara Lionel Foundation (CLF) in 2012, in honour of her grandparents, Clara and Lionel Braithwaite. Programs include the Clara Braithwaite Center for Oncology and Nuclear Medicine at the Queen Elizabeth Hospital in Barbados, and education programs.
Education
Ms. Fenty attended Charles F. Broome Memorial Primary School and Combermere High School in Barbados. She did not complete high school because of her music career taking off.
Please Support Our Partners
Featured Profiles
This week's selection of outstandng Black entrepreneurs & executives
Created by BlackEntrepreneurProfile.com

Born: July 2, 1951, Chicago, Illinois, United States;

Occupation: Businessperson;

Position: Chairman & Founder;

Company: World Wide Technology…
Recently Added Black Entrepreneurs & Executives
Isiah Thomas is Chairman and CEO of Isiah International, a holding company with interests in a diversified portfolio of companies, founded in…

Created by BlackEntrepreneurProfile.com

Macky Tall is a Partner and Chair of Carlyle's Global Infrastructure Group, which includes efforts across transportation, renewables, energy, power,…

Created by BlackEntrepreneurProfile.com

KeJuan Wilkins is EVP, Chief Communications Officer at NIKE, Inc., where he guides all corporate, consumer and employee communications including the…
Diddy Direct is a platform created for retailers and consumers to locate, request, and purchase Combs Spirits. The platform offers direct access to…

Created by BlackEntrepreneurProfile.com

Financial literacy is the ability to understand and manage one's personal finances. It involves skills such as budgeting, saving, investing, and…

The Wendt Center for Loss and Healing, is currently recruiting for Board members who have experience in any of the following areas: Non-profit…
If You Like Our Content, Please Consider Making A Small Donation.
Recently Updated Black Entrepreneurs & Executives Profiles
Created by BlackEntrepreneurProfile.com

Simphiwe Tshabalala, is Group CEO and Executive Director of Standard Bank, Africa's largest bank by assets and the 421th largest publicly traded…

Created by BlackEntrepreneurProfile.com

Craig Anthony Williams has served as the President, Geographies & Marketplace, NIKE, Inc. since May 2023, where he leads a cross-functional team…

Created by BlackEntrepreneurProfile.com

G. Scott Uzzell is Vice President/GM, North America, NIKE Inc., since May 2023. He was previously President & CEO of Converse, Inc., where he was…
FTC: Black Entrepreneur & Executive Profiles is reader supported, we may earn income on affiliate links. You support us by using our links to buy products, it will cost you nothing extra.
We also a participant in the Amazon Services LLC Associates Program, an affiliate advertising program designed to provide a means for sites to earn advertising fees by advertising and linking to Amazon.com.