Robyn Rihanna Fenty
Created by BlackEntrepreneurProfile.com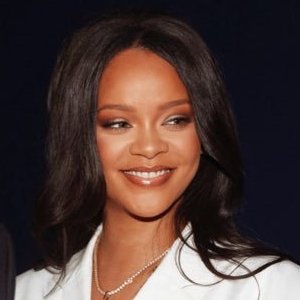 Born: February 20, 1988, Saint Michael, Barbados;
Occupation: Businesswoman, singer, songwriter, actress;
Position: Co-Founder;
Organizations: Fenty, Fenty Beauty, Savage X Fenty, Clara Lionel Foundation;
Industry: Cosmetics, Apparel;
Residence: Barbados & United States;
Nationality: Barbadian;
Net worth (2022/03/04): USD $1.7 Billion;
Robyn Rihanna Fenty, is the co-founder of Fenty, Fenty Beauty, Savage X Fenty and founder of Clara Lionel Foundation.
Ms. Fenty was officially named a billionaire by Forbes.com on August 04, 2021 with a estimated net worth of $1.7 billion. She's the wealthiest female musician in the world and second only to Oprah Winfrey as the richest female entertainer. The bulk of her fortune (an estimated $1.4 billion) comes from the value of Fenty Beauty, of which she owns 50%. Her stake in Savage x Fenty is estimated to be worth $270 million.
As a businesswoman, Ms. Fenty has had great success in the fashion and cosmetics industry with her Fenty Beauty, the makeup brand she co-owns with luxury goods group LVMH. Which was founded in September 2017 and was estimated to have generated $570 million in revenue in 2019. Forbes estimates the company is worth, conservatively, more than $3 billion.
Fenty (stylized as FEИTY) is a fashion house founded by Rihanna under the luxury fashion group LVMH (Moët Hennessy Louis Vuitton) which was founded in 2017 and launched in May 2019 and is based in Paris. The fashion label made Rihanna the first woman and also the first blackwoman to be added to the LVMH group.
Ms. Fenty also co-owns Savage X Fenty lingerie line with Los Angeles-based online fashion firm TechStyle Fashion Group. Launched in spring 2018. Jay-Z's venture firm Marcy Venture Partners LLC and growth-equity firm Avenir Growth Capital were reported to have invested $50 million into Savage X Fenty. Bringing the total amount invested in the company to roughly $70 million, according to the Wall Street Journal. The company is estimated to have generated $150 million in revenue in 2019.
Accolades
In 2018, the Government of Barbados appointed her as an ambassador with duties promoting education, tourism and investment.
She was the recipient of the 2020 NAACP "President's Award." The award is presented in recognition of a special achievement and distinguished public service.
Rihanna is the richest female musician in 2019 according to Forbes.
95 million twitter followers
79 million instagram followers
74 million Facebook followers
9 Grammy Awards
12 Billboard Music Awards
13 American Music Awards
8 People's Choice Awards
Philanthropy
Ms. Fenty founded the Clara Lionel Foundation (CLF) in 2012, in honour of her grandparents, Clara and Lionel Braithwaite. Programs include the Clara Braithwaite Center for Oncology and Nuclear Medicine at the Queen Elizabeth Hospital in Barbados, and education programs.
Education
Ms. Fenty attended Charles F. Broome Memorial Primary School and Combermere High School in Barbados. She did not complete high school because of her music career taking off.
Please Support Our Partners
Recently Added Black Executives
Created by BlackEntrepreneurProfile.com

Tyler Scriven is the Co-Founder & Chief Executive Officer of Saltbox, Inc., a logistics pioneer since April 2019. The company offers adaptable office…

Created by BlackEntrepreneurProfile.com

Ebony Beckwith is Salesforce's Chief Business Officer and Chief of Staff to Marc Benioff. In this role, Ms. Beckwith is responsible for aligning the…

Created by BlackEntrepreneurProfile.com

Angela Benton is the Chief Executive Officer of Streamlytics, a data analytics company. She previously co-founded NewME Inc., a venture capital…
Created by BlackEntrepreneurProfile.com

Tope Awotona's Calendly, announced the acquisition of Prelude, a fast-growing recruiting operations platform designed to build an efficient hiring…

Created by BlackEntrepreneurProfile.com

Jay-Z's company, SC Liquor, is reportedly suing D'Ussé Cognac co-owner Bacardi over the companies lack of financial clarity involving their…

Created by BlackEntrepreneurProfile.com

Parlement Technologies announced today that it has entered into an agreement in principle to sell Parler, the far right leaning "free speech"…
FTC: Black Entrepreneur & Executive Profiles is reader supported, we may earn income on affiliate links. You support us by using our links to buy products, it will cost you nothing extra.
We also a participant in the Amazon Services LLC Associates Program, an affiliate advertising program designed to provide a means for sites to earn advertising fees by advertising and linking to Amazon.com.