Shawn "Jay Z" Carter
Created by BlackEntrepreneurProfile.com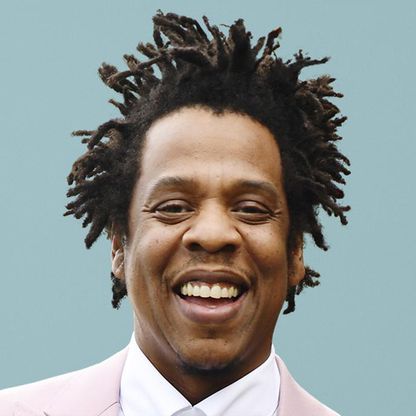 Born: December 4, 1969, Brooklyn, NY;
Company: Roc Nation;
Position: Founder;
Industry: Media, Entertainment, Publishing, Fashion;
Residence: United States;
Nationality: American;
Net Worth (2022/03/04): USD $1.3 Billion;
Shawn Corey Carter aka Jay-Z, has gone from a street hustler to a world famous entertainer and businessman. He is the founder of Roc Nation and Roc Nation Sports, co-founder of Roc-A-Fella Records and Rocaware.
Mr. Carter earnings according to Forbes.com, 2018: $76.5, 2016: $53.5 million, 2015: $56 million, 2014: $60 million, 2013: $43 million, 2012: $38 million, 2011: $37 million, 2010: $63 million.
"My goal was to have one gold album and that was it," says JAY Z in a recent Rocawear commercial. "And then it became, I want to show that an artist can ascend to the executive ranks."
Jay is the youngest of four kids brought up by a single mother, in Brooklyn's notorious Marcy projects. "When I left the block, everyone was saying I was crazy, I was doing well for myself on the streets, and cat's around me were like, These rappers are ho's. They just record, tour, and get separated from their families, while some white person takes all their money. I was determined to do it differently," he said in a New York Metro interview.
Personal Attributes and Interests
He married American R&B superstar Beyonce Knowles on April 4, 2008. They have 3 children.
Business Career
In early March 2021 it was revealed that Jay-Z had sold a controlling stake in streaming service TIDAL to Financial technology company Square, Inc., the mobile payments firm run by the Twitter co-founder Jack Dorsey, for USD $297 million, in cash and stock.
In February 2021, Moet Hennessy acquired a 50% stake in Jay-Z's Champagne brand, Armand de Brignac, known as Ace of Spades because of its distinctive label, which is produced in France's Champagne region. In 2014, Jay-Z bought Armand de Brignac for an undisclosed sum.
In August 2020, it was announced that Jay-Z's Roc Nation would partner with Brooklyn's Long Island University to establish the Roc Nation School of Music, Sports & Entertainment.
Jay-Z is the founder owner of the successful "Made In America" music festival.
Marcy Venture Partners was co-founded by Jay-Z and Jay Brown with venture capitalist Larry Marcus. The firm invests in game-changing consumer businesses and mass-market brands that resonate with culture across products and services, media and technology.
Jay-Z is founder of Roc Nation, created out of a $150 million, 10-year, profit-sharing deal with concert giant Live Nation.
He was previously CEO of Def Jam/Roc-a-fella records from 2005 to 2007.
He was a co-founders of the Roc-A-Fella empire, which includes Roc-A-Fella Records, Roc-La-Familia, Roc-A-Fella Films and Rocawear.
His business investments encompass liquor, art, real estate (homes in Los Angeles, the Hamptons, Tribeca) and stakes in companies like Uber, worth an estimated $70 million (June 2019).
In September 2016 Jay-Z signed a two-year deal to produce TV and film projects with The Weinstein Company.
In 2015 he bought Swedish tech company Aspiro for $56 million in cash. Aspiro operates the streaming service Tidal. His stake in the company is now worth an estimated $100 million (June 2019).
On November 5, 2014, it was announced that Jay-Z had acquired additional interest in Armand de Brignac ("Ace of Spades") Champagne brand from Sovereign Brands.
He was a part owner of the New Jersey Nets, paying a reported $1 million for one-fifteenth of one percent of the team. His influence on the project has been wildly disproportionate to his ownership stake and so is the money he stands to make from it. The Net's new arena, Barclays Center, will open with eight sold out Jay-Z concerts. The arena's most exclusive "Vault" suites, for which fans will have to shell out $550,000 a year to have access to, will offer patrons Armand de Brignac champagne. Jay-Z "promotes" and "holds a financial interest" in Armand de Brignac. His 40/40 sports bar/club will open a new location at the Barclays Center. Rocawear, his clothing line, will have a store at the arena. The Nets will employ advertising agency, Translation, which is half-owned by Jay-Z.
He is a co-own of The 40/40 Club, an upscale sports bar with locations in New York City, Atlantic City and Las Vegas. He also has ownership stakes in a Greenwich Village bistro, the Spotted Pig.
He maintains creative and operational control of the Rocawear clothing line, which he bought from his founding partners then sold in 2007 for $204 million;
Jay-Z was also an investor in Carol's Daughter, a beauty line founded by Lisa Price.
Board and Advisor Roles
Mr. Carter is a member Square Inc., Board of Directors, 2021.
Accolades
Jay-Z is the first hip hop artist to become a self made billionaire, with a net worth greater than $1 billion, according to Forbes.com.
Jay-Z topped the Forbes magazine first-ever list of hip-hop Cash Kings, the top money makers in hip-hop with an estimated $34 million in 2006 earnings.
In 2010 Forbes put him on the cover of it's 400 "Richest People in America" issue, even though at $450 million he was only "on his way" to cracking the list where a $1 billion network minimum was required.
On December 11, 2009, Jay-Z was ranked as the 10th most successful artist of the 2000 to 2009 decade by Billboard Magazine and ranking as the 5th top solo male artist and as the 4th top rapper behind Eminem, Nelly, and 50 Cent.
Philanthropy
Jay-Z is active in giving back to the community, most notably through his philanthropic work through the Shawn Carter Foundation. The Foundation, founded in 2002, is dedicated to helping individuals facing socio-economic hardships further their education, encouraging them to tap into their potential. Since the foundation launched, Shawn Carter Scholars are studying at over 100 institutions of higher education throughout the nation.
Along with Sean "Diddy" Combs, Jay-Z pledged $1 million to the American Red Cross's relief effort after Hurricane Katrina.
Jay-Z has donated money to bailing out protestors arrested during the 2020 activism against police brutality.
Jay-Z is also a founding member of The REFORM Alliance, whose mission is to dramatically reduce the number of people who are unjustly under the control of the criminal justice system.
Please Support Our Partners
Recently Added Black Executives
Created by BlackEntrepreneurProfile.com

Tyler Scriven is the Co-Founder & Chief Executive Officer of Saltbox, Inc., a logistics pioneer since April 2019. The company offers adaptable office…

Created by BlackEntrepreneurProfile.com

Ebony Beckwith is Salesforce's Chief Business Officer and Chief of Staff to Marc Benioff. In this role, Ms. Beckwith is responsible for aligning the…

Created by BlackEntrepreneurProfile.com

Angela Benton is the Chief Executive Officer of Streamlytics, a data analytics company. She previously co-founded NewME Inc., a venture capital…
Created by BlackEntrepreneurProfile.com

Tope Awotona's Calendly, announced the acquisition of Prelude, a fast-growing recruiting operations platform designed to build an efficient hiring…

Created by BlackEntrepreneurProfile.com

Jay-Z's company, SC Liquor, is reportedly suing D'Ussé Cognac co-owner Bacardi over the companies lack of financial clarity involving their…

Created by BlackEntrepreneurProfile.com

Parlement Technologies announced today that it has entered into an agreement in principle to sell Parler, the far right leaning "free speech"…
FTC: Black Entrepreneur & Executive Profiles is reader supported, we may earn income on affiliate links. You support us by using our links to buy products, it will cost you nothing extra.
We also a participant in the Amazon Services LLC Associates Program, an affiliate advertising program designed to provide a means for sites to earn advertising fees by advertising and linking to Amazon.com.